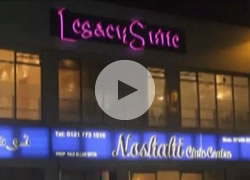 Watch Tv Advert Noshahi Civic Centre is a family run banqueting and catering business since 1982 located in Birmingham started off by the late Haji Ch Allah Ditta, and inaugarated by Sahibzada Mahboob Hussain Noushahi.
We have two spacious and magnificently designed conference and banqueting suites to offer that would suit any occasion such as Weddings, Birthday Parties, Concerts, Charity Events and even Corporate Events.
Our catering services offer the highest quality cuisine, using only the finest of ingredients in our traditional speciality dishes to bring out their unique mouth-watering tastes. All dishes served are cooked onsite and freshly prepared, we also cater for events across the UK.
We pride ourselves on being the pioneers of the wedding and catering industry in Birmingham with over 30 years of experience serving the community. Our highly experienced team are committed to providing an unforgettable first class service to make your big day extra special for you and your guests.
Our aim is to make your celebration a joyous occasion, but also one which will be most relaxing, enjoyable and stress-free. The Noshahi Team provide a friendly and professional service with a personal touch which ensures customer satisfaction at an affordable price.